Sandhill Crane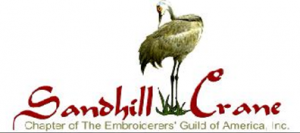 Welcome to the Sand Hill Crane Chapter. We are a small but very active EGA chapter located in Brooksville, Florida; a city rich in southern hospitality and the arts. Please take a moment to review our upcoming schedule of interesting educational opportunities and fun activities. We look forward to hearing from you!
The Sandhill Crane Chapter of the Embroiderers' Guild of America meets the first Wednesday of the month at the Faith Evangelical Presbyterian Church on Mt. Fair Ave in Brooksville FL. We meet from 10:00am to 2:00pm. After the meeting, members participate in classes, stitch on their own, and bring their lunch or order out from Mallie Kyla's restaurant. We do not hold chapter meetings in July and August.
Members stitch together on the third Wednesday of every month at the West Branch of the Hernando County Library System from 10:00am to Noon.
UPCOMING PROGRAMS:
"Stitch of the Month" presentations are planned for each meeting.
2017
September – Tape Measure Challenge Results & GCC Temari: Shades of Pink orientation
September & October – Florentine Ornament led by Lynn Pittenger & Temari led by Jan Mazourek
November –Florentine Ornament & Temari
December – Christmas luncheon and ornament exchange.
2018
January – Ambrosia Honey (June 2017 Needle Arts Project)– led by Linda Hansen & Temari
February – Ambrosia Honey & Temari
March 2-3 – Tanja Berlin FL Tour in Springhill
March –Pincushion Inspirations Design – led by Lynn Pittenger & Ambrosia Honey
April – Hardanger Mouse Needle Sharpner led by Jan Mazourek
May – 25th Anniversary Celebration & Hardanger Mouse
June – Dorset Buttons led by Linda Hansen
July-August – No chapter meetings.
September – GCC "Undulations II" (Bargello).
For additional information, please contact:
Nancy Westmoreland, Membership Chairman at SHC-memb@sunregionega.org
or
Catherine Weber, President at SHC-pres@sunregionega.org
Or leave a comment in the box at the bottom of this page.