Tuscany Retreat Classes
Tuscany Retreat 2020 – Class Offerings
Fabric Dyeing – Marlene Glickman
Friday May 1, 1:30 pm – 4:00pm
Marlene is back by popular demand! In this fun class, all students will create a scarf in the first half of class. Then they will divide into 2 groups where one group will make another scarf and the second group will create an interesting piece using broadcloth (8″ x 8″), organza, foil, and of course dyes. Students will walk out of class wearing a scarf or two or carrying a cool fabric that can be embellished with thread, beads, and any other process you can think of.
Cost including kit: $45.00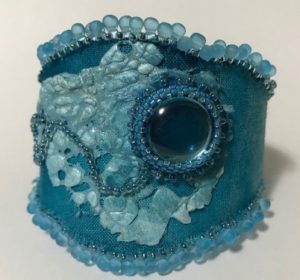 On the Edge – Jenna McClooney
Saturday May 2, 9:00am – 11:30am
Create a shabby chic bracelet by designing and embellishing your fabric using beading, embroidery, or mixed-media techniques as pre-work. In class, you will apply a plastic insert to retain the cuff's shape, back with Ultrasuede® and explore various edgings to finish your fabric cuff bracelet. Voilà, you have an original! The kit includes fabric and instructions for pre-work, beads, clasp, needle, thread, Ultrasuede®, and plastic for interior form.
Cost including kit: $40.00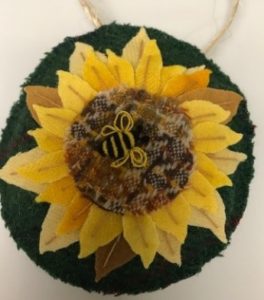 Felt Sunflower Ornament – Melanie Scharch
Saturday May 2, 1:30pm – 4:00pm
All levels of embroiderers will feel like pros when they finish this charming felted wool appliquéd sunflower. Students will arrange individual hand-dyed petals in a way that is pleasing to them and stitch them down with simple straight and running stitches. A variety of stitches will be used for the bumblebee and a blanket stitch to finish the ornament. The kit includes all materials needed to complete the 5" ornament including pre-cut, Hand dyed felted wool, special needles and threads, stuffing, a hanger, even a glue stick.
Cost including kit: $45.00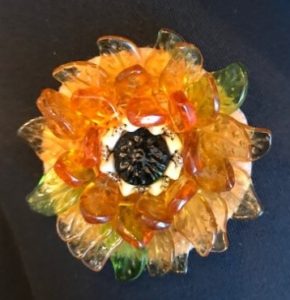 Sunflower Serendipity – Kathy Singleton
Sunday May 3, 9:00am – 11:30am
Calling all sunflower lovers. This is a fun and easy way to bring a sunflower into your home or studio. Using glass beads, we will stitch a three dimensional sunflower on bead foundation. No fancy stitches involved – just some easy bead embroidery. We're letting the beads do the work in this project. This sunflower looks so cute on the top of an orts jar (included in the kit) or you could mount it on a box or other container. An easy finish with a beaded edge.
The kit includes all supplies needed to complete the project.
Cost including kit: $45.00