2018 – Yo Ho Ho, Stitch and Sew!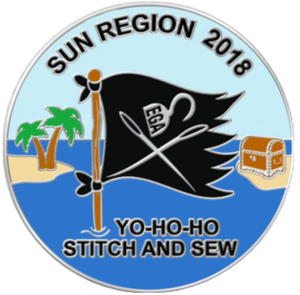 Yo Ho Ho – Stitch and Sew
RETREAT at Safety Harbor!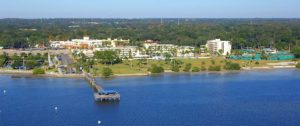 Dates: Friday, May 4, 2018, 2PM, through
Sunday May 6, 2018, 4PM, 2018

Where: Safety Harbor Resort and Spa, Safety Harbor, FL
UPDATE: 2-4-2018: We have 62 confirmed registrations for our event! Yay! But — and this is important — our meeting space maxes out at 70 registrations. We have room for only eight more registrations. If you're the 70th person to register, all's well; but if you're the 71st, your name will go on a waiting list.
UPDATE: 1-9-2018: We have filled our room block and the hotel has notified us that the only rooms available for our weekend have king-size beds.
BUT…
That doesn't mean you can't come to Yo Ho Ho, Stitch and Sew because we've still got plenty of room for embroiderers and pirates alike because…
The committee has decided to waive the commuter fee.
Safety Harbor is a compact resort town with many nearby hotels – Google safety harbor hotels for details and prices…
…then fill out your registration form and join us for a great weekend!
(Scroll down for additional updates)
Event chairperson: Kathy Singleton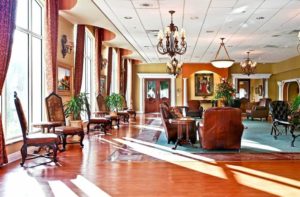 Total registration cost will be $125 for all EGA members.
The total registration cost includes the $25 non-refundable deposit
that must accompany the completed registration form.
To download the registration form, click < — HERE — >
Saturday lunch is included the registration fee.
If space permits, registration will be opened to non-EGA members
on April 2, 2018; registration cost for non-EGA members will be
$175. Non-EGA members may register for the Retreat now; if the
retreat is fully subscribed before April 2, 2018, their deposits will
be refunded.
Our hotel is an architectural delight with walking trails and the historic Espiritu Santo Springs–Florida's only hot spring. There are dozens of shops and restaurants within walking distance. The accommodations are big and bright. Don't miss out on the fun and games. There will be pirates, a treasure hunt, and (maybe) someone will walk the plank!
1-19-2018 Update:
The Yo! Ho! Ho! Committee is really gearing up! We've made decisions and now we're making announcements:
Merchandise Mart: The Yo! Ho! Ho! Stitch and Sew! Merchandise Mart will be open from 4PM to 6PM on Saturday. Anyone (or any chapter) who wants to reserve a sales table at the Mart can use the comment form at the bottom of this page.




A whole table will cost $20; a half-table, $10

Make-and-Takes: There will be four make-and-take classes (Friday 3-5PM, Sat 9-11AM, Sat 1-3PM and Su 9-11AM) The theme for the classes will be Pieces of Eight (and a Parrot). The pieces will be taught by region members. Details on each of the classes will be released as soon as they're available. Sign-up sheets will be sent to all of those who've registered for the retreat.