Gulfview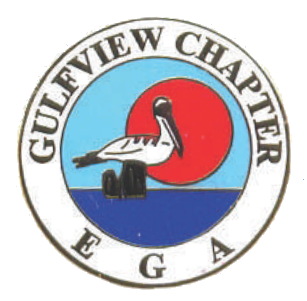 The Gulfview Chapter, located along the beautiful Sun Coast in western Pasco County, meets September through May, starting at 10:30 AM on the second Wednesday of the month. Our meetings are held at the Veterans Memorial Center, 14333 Hicks Road in Hudson, Fl. This facility has wonderful lighting for stitching and ample parking for members and guests. The board meeting is held prior to each general meeting and starts at 9:30 am. All members are welcome to attend the board meeting.
The Gulfview Chapter emphasizes education for both its members and the community. Gulfview offers members a class after each general meeting and sponsors classes taught by EGA national teachers. Beginner to advanced classes have been taught in counted canvas, hardanger, silk ribbon embroidery, beaded necklaces, Teneriffe, beaded bracelets, pulled thread, Assisi, blackwork, drawn thread and bargello, just to name a few. Every year Gulfview displays embroidery pieces in one or two local libraries. Using their own projects, members volunteer to demonstrate various stitching techniques to the public at these displays. The Gulfview Chapter participates in outreach programs by stitching samplers for homes built by Habitat for Humanity; kissing pillows for service men and women and their families; and making blankets for Project Linus. Members also contribute "necessary" items for a local domestic violence shelter for women.
The Gulfview Chapter has three stitch-ins every month on the first Thursday, third Wednesday and the fourth Monday (which does not meet in June and July). These stitch-ins provide warm and supportive time to stitch on your own project, get help with a chapter-sponsored class and to enjoy the company of other members. Each stitch-in begins at 10:00 am and ends at 3:00 pm. You can "come when you can and leave when you must." All you need to have is an embroidery project, your lunch and beverage.
You are cordially invited to come and see what the Gulfview Chapter has to offer.
For additional information about the chapter, the location of the stitch-ins and upcoming classes, contact President Judy DeMeglio at jedemeglio-at-AOL-dot-com.