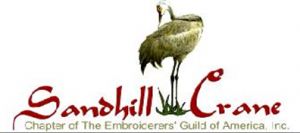 contact: Jenna McClooney
jennalee-at- hotmail-dot- com
The Sandhill Crane Chapter of the Embroiderers' Guild of America meets the first Wednesday of the month at the Faith Evangelical Presbyterian Church on Mt. Fair Ave in Brooksville FL.  We meet from 10:00am to 2:00pm.  After the meeting, members participate in classes, stitch on their own and bring their lunch.
Members stitch together on the third Wednesday of the month at the West Branch of the Hernando County Library System from 11:00am to 1:00pm.
Upcoming Events:

April – HMO!  (Help Me Out!) – Bring any project you need a little help with and our experts will be there to assist you.
May – Brazilian Embroidery with Frances Steenburgher (see details below).  Spring luncheon will be held with catering by Mallie Kayla.
June – Continuation of Brazilian Embroidery project including finishing ideas.
October – Linda Mucha will present a painted canvas class – details later.
November – Ornament finishing techniques.
December – Christmas party with ornament exchange.
Brazilian Embroidery – May 1, 2013 – Cost is $12.00 which includes the design on fabric, threads, and needles.  Participants need to bring a 4-6″ hoop, needle threader, and scissors.  See photo below for design.

Please stay tuned – regular updates will follow.