Sandhill Crane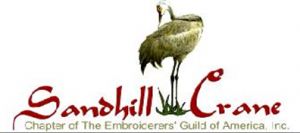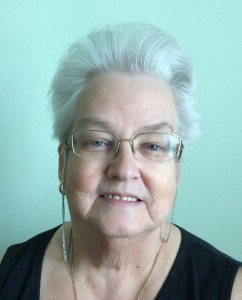 Carol_Harrison, President, Sand Hill Crane Chapter
Welcome to Sand Hill Crane Chapter..We are a small but very active EGA chapter located in Brooksville, Florida; a city rich in southern hospitality and the arts. Please take a moment to review our upcoming schedule of interesting educational opportunities and fun activities. We look forward to hearing from you!
Carol_Harrison, President, Sand Hill Crane Chapter
The Sandhill Crane Chapter of the Embroiderers' Guild of America meets the first Wednesday of the month at the Faith Evangelical Presbyterian Church on Mt. Fair Ave in Brooksville FL. We meet from 10:00AM to 2:00pm. After the meeting, members participate in classes, stitch on their own, and bring their lunch or order out from Mallie Kyla's restaurant. We do not hold chapter meetings in July and August.
Members stitch together on the third Wednesday of every month at the West Branch of the Hernando County Library System from 10:00am to Noon.
UPCOMING PROGRAMS:
May, 2015 Jenna McClooney will present her Raku Cabachon project.
June, 2015 Betsy Goker's will be teaching a Bargello piece.
Future GCCs
Members voted to participate in two GCCs in 2015-1016
Bargello Challenge &  Meadow Medley